After a few years indoors, it seems like everyone is itching to get outside. So making your outdoor hardscapes more aesthetically pleasing and comfortable will help you spend more time outside. So is it worthwhile to get stamped concrete patio in Kansas City? Read on to learn why our decorative concrete is worth every penny. 
We Can Create Traditional Patterns
When getting stamped concrete installed, you can rest assured that you can get traditional designs with concrete. This includes brick, slate, marble, and flagstone. Stamped concrete contractors use huge sections of rubber stamps and press them into the concrete to create the pattern. They can even add a red tint to create the brick look or varying shades of color to create a slate design. Once they complete a stamped concrete project, your patio will look like traditional pavers without the added costs or hassles that they bring. You never have to worry about bricks coming loose or flagstone chipping as you may have to with traditional pavers.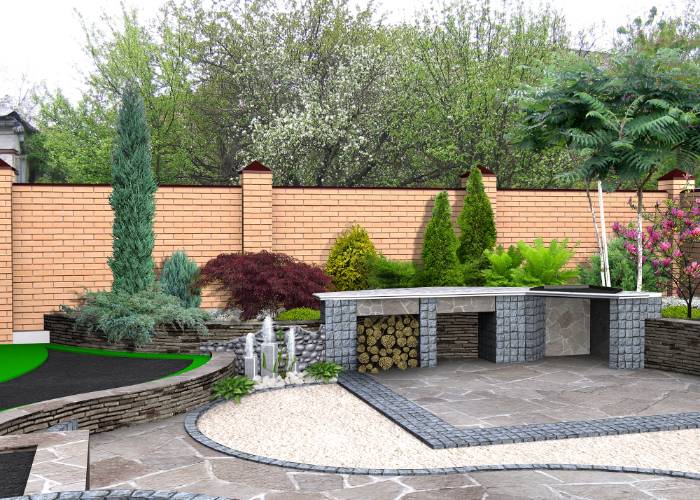 You Can Get Customized Patterns of Your Choice
In some instances, you may not want a traditional pattern for your stamped concrete patio in Kansas City. This is another added benefit of getting stamped concrete. You aren't limited to the patterns like those created by traditional pavers. Since stamps create the designs, contractors can work with you to create a pattern of your choice and imprint it throughout your patio. 
Customized prints could include decorative leaf patterns, pinwheels, creative stencil designs, wood grain, etc. And what's excellent about stamped concrete is that you don't have only to stick to the colors of the traditional paver. Nor do you have to settle for the gray color of concrete. Contractors can mix in tints that change the color of the stamped concrete to blend well with your home's colors or outdoor color themes. 
Our Team Works Quickly to Complete Your Kansas City Stamped Concrete Patio
Are you looking forward to enjoying more time outdoors with your family and guests this year? It's no surprise. A recent study shows that many more Americans are starting to spend more time outdoors, particularly in their backyards, after the pandemic.
Another reason you'll love getting stamped concrete installed is because it doesn't take long to create a beautiful look you will enjoy. Within three to four days, a skilled stamped concrete contracting team can transform the look of your patio. Unlike pavers, which can be very labor-intensive, our team can quickly mix the concrete, pour it, and stamp it quickly. It generally takes about one day to imprint and add color. Additionally, it takes a day or two to finalize the design and allow the concrete to cure. 
So, you could have a team put in your stamped concrete at the beginning of the week and be ready to throw a party or simply enjoy your new landscaping by the weekend. Most importantly, since stamped concrete doesn't require the workforce and hauling that traditional pavers do, it isn't as costly. 
Once We're Done, You'll Have a Durable Stamped Concrete Patio
Not only will you be happy with the design you've chosen for your patio. But you will also be satisfied with the long-lasting results of stamped concrete. Unfortunately, traditional pavers require a lot of maintenance to keep them looking their best. This includes consistent cleaning, weed treatments, cleaning them, and replacing broken pavers. 
With decorative concrete, you only may have to worry about cracking. However, you can minimize this by ensuring that you get the contracting team to apply sealant. You can choose from a sealant that has a matte finish or one that has a glossy finish. After the initial seal, you will need to get the sealant reapplied every three to five years. And if you happen to get cracks in your stamped concrete, a full-service stamped concrete company will be able to repair the cracks and have it look like new at a nominal charge.
Are you ready to spend more time with your family and friends outdoors on your patio this year? Now is a good time to get a stamped concrete patio installed in your local area. For over 20 years, the knowledgeable design and installation team at Kansas City Stamped Concrete Pros has provided gorgeous patio designs to residents in Kansas City, Missouri. We also offer services to the surrounding cities of Overland Park, KS, Independence, MO, Lee's Summit, MO, Olathe, KS, and Shawnee, KS. Call (913) 379-2990 to learn more about our numerous stamped concrete patterns, including customized options. And also, get your free, no-obligation on a stamped concrete patio in Kansas City.